Welcome to Asmildkloster Academy of Agricultural Business.
Asmildkloster Academy of Agricultural Business, is founded 30. oct. 1908 and located in Viborg in central Jutland – Today Asmildkloster yearly is graduating 100 skilled farmers, and 425 students are on their way. Today a modern international college for further agricultural education, supported by the Danish ministry of education, with proud traditions and a historical atmosphere.
For Danish students the vertical range of agricultural education has for more than 110 years been represented. From the basic farm-assistant to Skilled farmer and to the unique management education only conducted at 7 academies in Denmark. The farm assistant can undertake most daily operations, work independently and consider all aspects of work safety, maintenance, first aid etc.
The skilled farmer, equal to other vocational educations proves professional workmanship within the branch. He/she can manage a diverse farm operation and all aspects of production management, like optimizing resources feeding plans, gross margins and technology in and on farm.
The Agro-economist post graduates are employed by a wide range of agribusinesses, from production level to processing, export, sales and marketing, genetics, advisory extension service, education, research and of course within the financial sector.
International efforts – Asmildkloster agricultural school
International cooperation must be a strategic tool for innovation and development in education, as well as the competence development of Asmildkloster's organization and employees through mutual and beneficial cooperation with international collaborators.
International cooperation must reflect Asmildklosterøs areas of work, which are vocational education and training in agriculture and related education. Including the various inputs EUD, EUX, EUV, Students, as well as Agricultural Leadership.
Asmildkloster Agricultural School will thus:
Engage in dialogue with international collaborators and through mutual exchange of experience and knowledge create innovation and develop a high level of professionalism in all disciplines
Strive to be internationally recognized in our areas of work and learn from the best in the world and have the courage to stand out through new and innovative initiatives – also internationally
Asmildkloster Agricultural School will:
Strengthen development and growth in Danish agriculture through international cooperation
Through international work ensure development og high competencies for all the school's employees
Contribute to the acquisition of acquired competencies for learning for the school's employees, students and companies with interests in agricultural education
Strengthen interpersonal understanding through cross-border cooperation
Ongoing efforts:
Engagement in the organisation EUROPEA
Sending employees on international exchange supported by ERASMUS +
International practice for agricultural students through, for example; Travel2Farm
Establishment of project organization for work with national and international activities
Development of internationally oriented programs
Erasmus accreditation from march 2021 to december 2027
We are thankful to be part of Erasmus+. With our accreditation we;

have easy access to continuously apply for grants for mobility activities, and we do not have to write detailed plans and activities every time.

gives us the opportunity to try new things: a new type of activity, a new partner organization – all without having to write another complete application.

with easy and ongoing access to grants, we can focus on our long-term goals and use mobility activities to gradually raise the quality of youth work in our organization to a new level.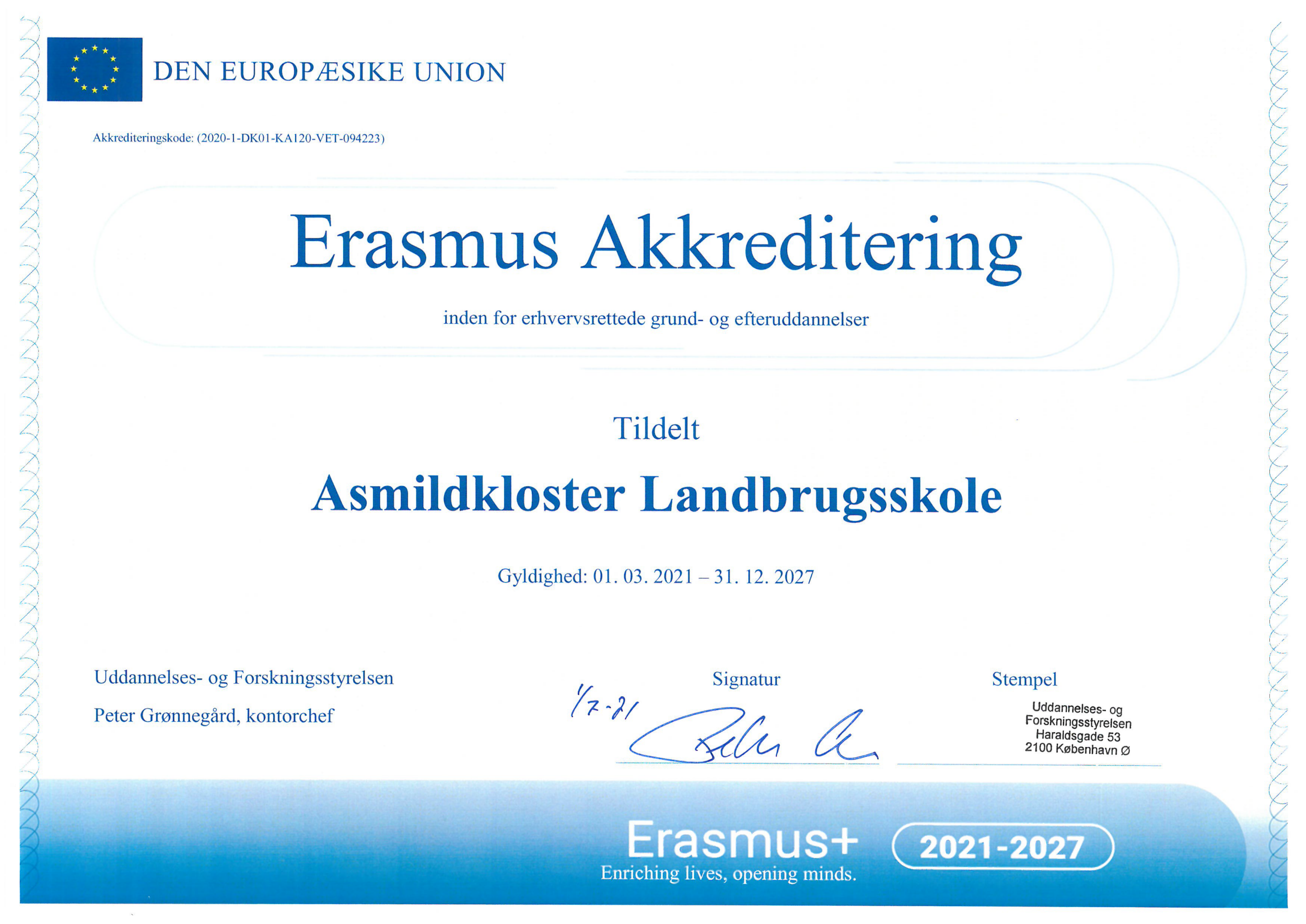 Asmildkloster Agricultural School's international efforts are inspired by the Central Denmark Region's international engagement and vision.
"Du er velkommen til at booke en samtale hvor vi sammen med dig afklarer mulighederne og spørgsmål – så du har det bedste grundlag for at træffe en beslutning om uddannelse og din fremtid.